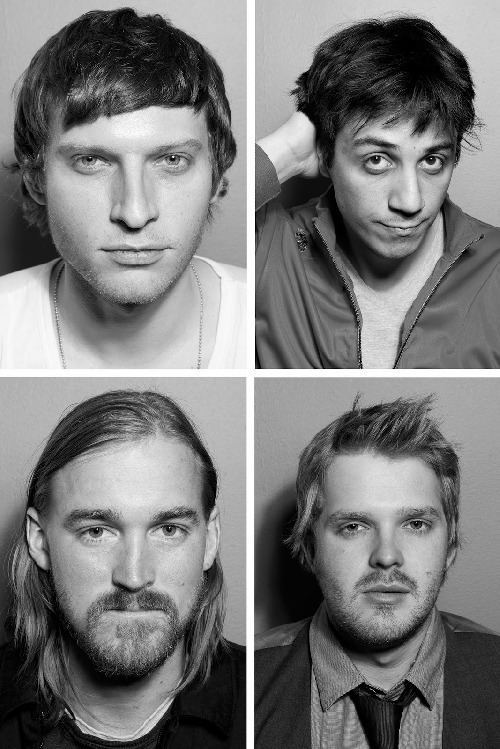 "I'm outside Yankee Stadium! Yeah, I'm with some buddies and I'm going to see the Yankees play. Can you believe it's $10 a beer here? They're big though, you only need two of them to get drunk...well I will." Not the sound of a kid brought up in Northumberland, England to the sounds of reggae you may think, but then Antony Ellis, frontman for Five O'Clock Heroes is not your average Northumbrian.
Escaping the 'shit and cynicism' prevalent in the post-Britpop-slump UK, Ellis relocated to New York and formed the half-British, half-American Five O'Clock Heroes, soon specialising in upbeat, catchy, dry songs that sound like they would kick live, though this isn't what Ellis always set out to do. "For me, we don't go into the room and think: 'We've gotta be new wave'. We've become friends with bands like that because they're good guys. If we we're going to record a song that sounds different then great, but we're not about to start playing hip hop." Interestingly the initially disingenuous hip-hop angle is a factor in Five O'Clock Heroes latest offering their second album Speak Your Language."A guy by the name of Chuck Brodie approached us and said: 'I want to record you guys'. He'd just come from working on the Wu Tang Clan record so I was pretty skeptical. But he said 'the one thing that I would really want to do is overdub the drums.' That got me going, I wanted to have this album focus a lot more on the percussion and the beat. So we recorded snares in the corridors for a boomy sound, bass drums under blankets - whatever we could find, we could do it. It was very fun to do."
Fun is clearly on the cards for punters at a Five O'Clock Heroes gig, but this is more a release of intensity for the band who've not had the easiest evolution. "We were turned down by 16 or 17 labels; majors and indies included. They would say stuff like: 'You need to have another angle on this', 'You need to have a girl in the band' or 'You need to have a keyboard player'. We decided to do it on our own. Some of our friends were in the bands The Paddingtons and The Rakes and they invited on their tours, and basically, we never got off the road. We jut kept going. As a result of this we screwed up all normal occupations, all the relationships and living circumstances we had. I can't help feeling that if you're going to do it, do it right. Go all the way. That's the way to do it. A&R people are not the people to tell you yes or no. I don't like the word no. Mind you, it's a lot easier when you have a band of friends who all think the same way."
Ironically, it's the addition of a girl (supermodel Agyness Deyn) for their latest single Who that has brought them more attention than ever. "I've known Agyness for a long time since her and Josh Hubbard [of The Paddingtons] were together. She was a just a kid then; late teens, she was always so cool. She moved to New York a couple of years back and stayed with me when she first arrived, we were really tight. The song Who was written for a French singer, Amelie Simon, and she wrote the four lines in the chorus in French, and I thought I could translate to into English. I mentioned it to Agyness and she asked me if she could try singing it, and she nailed it. The girl can sing. She was really impressive. I had a great time recording with her and doing the video too, it's blown up a little bit, but England are really good at bringing something up and taking it down just as fast."