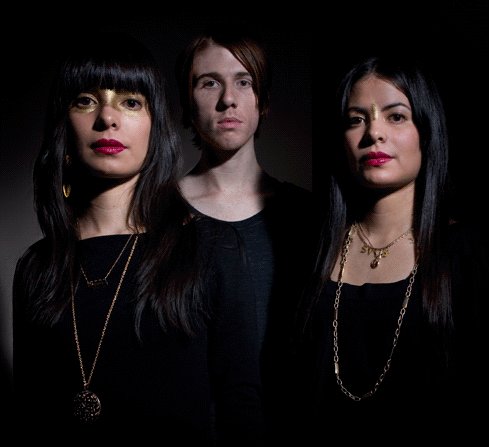 Thursday, March 19, 2009
With the release of last year's captivating Alpinisms SCHOOL OF SEVEN BELLS' research and experiments paid off. ANDY HAZEL finds singer and identical twin CLAUDIA DEHEZA wouldn't mind being involved in an experiment of her own.
Named after a fictitious South American school for thieves, School of Seven Bells (or SVIIB in what is surely one of the finest band acronyms of recent years) have, with one of the most acclaimed debut albums of 2008, created a niche of their own. Fusing intimate electronica with chasms of guitars, elegiac lyrics and swooping harmonies, this is music for headphones, bookstores and, it would seem, bigger and bigger venues.
In a car on her way to the band's next show in Vienna, Claudia Deheza, responsible for precisely 50% of the band's hypnotic harmonies, admits to being somewhat surprised that she's there at all. "The shows in Germany went way better than I thought they were going to go. The crowds were very enthusiastic and excited and knew all the songs, which was a real surprise. I hope it's like that when we play with Black Moth Super Rainbow," she says of next month's US tour. "Everything about the band felt like a natural progression up until recently. The last few months have been a little crazy as things have started to pick up really quickly. It's been very strange but we were really happy with the album so it's all good."
Raised by artistic parents in a world of constant activity and creativity, Deheza and her identical twin sister Alejandra are very grateful for their upbringing. "Ever since we were little we were involved in music. We always had instruments, as young as I can remember. We were put amongst a choir when we were really little and in school we were put into bands, we were always learning instruments so being in a band together came very naturally." This lead to forming the band On! Air! Library! with friend Phillip Wann in 1998. After a split album with The Album Leaf, and a 2004 tour with Interpol, the musical arrangement began to wear thin for the sisters. "I definitely felt creatively compromised before forming SVIIB," Deheza reflects. "The whole idea behind SVIIB was the idea of being very free, without limits, without compromising ideas because of another person in the band. We weren't going to limit ourselves and I guess that in other bands you're supposed to be about not stepping on each other's toes, in this band there's none of that."
Their tour with Interpol introduced them to fellow support act Secret Machines and the sisters found a friend in guitarist Benjamin Curtis and a way out of the pressure the three felt in their respective bands was born. "Ally and I actually left On! Air! Library! in 2004 and SVIIB didn't start until early 2007 so there was quite a bit of time before Ben and us got together to form the band, to write and decide what we were going to do," Deheza explains of the careful construction the album underwent. "Maybe fate brought us together," she laughs. "We all happened to be on that tour together and it's worked out pretty well since then."
Sounding like they're tighter than two coats of paint, the trio split responsibilities to the final 0.3 of 33.3%. "We're all very involved in the presentation and everything involved with the band. It's not like the label decides 'we're going get you to work with this designer' or 'that photographer'. It's the three of us, we pick our own artist and work on everything together - the font, everything."
The album clearly couldn't have been born any other way. By leaving their respective bands, moving into a house/studio to work together, Alpinisms is a sweeping statement of independence where there was no real 'time off' and dinners would be interrupted if someone had an idea or was singing a harmony another liked. The bravery that came with the strength of this union allowed songwriters to venture into territory that was not as bright as some of the sparkling keyboard melodies may indicate. The song For Kalaja Mari, for example, is notably downbeat, particularly moving and a highlight of Alpinisms.
"Kalaja Mari was a close friend of Ally's who unfortunately took her life and the song is basically about how Ally lost touch with her," Deheza elaborates. "It's a letter explaining everything she would have wanted to tell her. It's a song we're definitely we're very happy with. It came out perfectly." The lyrics, Curtis has said elsewhere, are the centrifugal force of all the music the band creates.
Other artists have noticed the sisters' skills too. Claudia Deheza also worked with Prefuse 73 on the Class of 73 Bells single and with the underground supergroup Risil who also features John McEntire, members of Battles, Pivot, Savath Y Savalas and Prefuse 73 though, she insists, there is no looking back. "That was a one off. It was really fun to make and was basically done out of boredom and downtime. All the other things are friendly collaboration and the singles and guests on a song." One side project that will be ongoing is Night Of The Gifts, a far more experimental and at times suffocatingly atmospheric project where tracks are more 'pieces'. "That's also the three of us," Deheza explains. "It's another side of our personality, our alter ego. I'd love to play those songs live but we haven't had time to work it out. We'd love to do soundtracks as Night Of The Gifts, it's something we'd be perfect for."
Another obviously striking aspect about the band is the Deheza sisters and their phenomenally matched vocals. Having a twin sister in a band is, it turns out, a wholly positive arrangement. "I don't know what it's like to be any other way," Deheza says guardedly. "Sure, I feel lucky, we're very close, and we're closer than most siblings normally are I guess. We can read each other very well. I think it does give us an advantage being in a band, there's a familiarity that we have, and you don't have to be polite with siblings, you can say: "no I don't like that" and know that you're still going to have that connection. It's a lot easier to get to the point." Switching from serious to hilarious in a few seconds when broached about being the subject of a scientific experiment Deheza cracks up, as does her sister in the background with an audible shriek. "No! I've never been asked to be in a scientific experiment, but I wish I had, man that's a great idea. They sound like a lot of fun, that would be fascinating!"