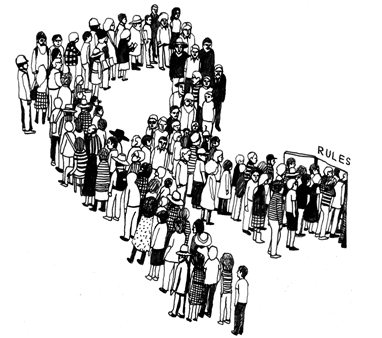 Playing possibly the most anaemic dance music in history, The Whitest Boy Alive are, for all their analogue authenticity and genuine grooviness, an exercise for the songwriting of Erlend Øye to get rhythmic. Most will know him from Kings of Convenience's mellifluous library-quiet paeans to emotion and fortitude, but Øye has always been up for putting down the acoustic guitar and getting heavier on the backbeat. TWBA's first album Dreams woke a lot of people up to the wonders of Scandinavian dance music played by a rock band, a band celebrating a tweeness dance music had hitherforto shied away from with a glass of Tanqueray and tonic. TWBA remind us that music can sound geographically specific, if not necessarily cultural.
Rules is no great departure from Dreams. The songs continue the Rhodes-heavy, skeletal drumming and brittle D.I-ed guitar with Øye's warmly brooding voice the only ingredient stopping the soufflé from floating away. Courage elicits a sense of certainty that is almost uncharacteristically forceful while High On The Heels and Keep A Secret are perfect 8-9PM songs for any DJ to play before the drinks take effect. The production's Teutonic sheen almost demands that you iron your shirt and polish your shoes before stepping out; "this dance ain't for everybody".
"Freedom is a possibility only if you're able to say no / People in Northern Europe since medieval times / We find it hard to deal with when our dreams come true / As if happiness exists in the world at a fixed amount." – 1517.
Øye is a masterful songwriter regardless of genre and arriving at "dance" music with such an atypical heritage he is bound to deliver something interesting and Rules is absolutely that; head-nodding more than roller-disco. What Øye does wonderfully, as the preceding excerpt indicates, is inject some humanity and pathos into the beats. While LCD Soundsystem may rail elegantly against ageing on All My Friends, Øye, against fragile beats, clipped chords and B12-deficient bass sings of human frailty and the emotional vagaries, with music mirroring his flawed subjects. The beat becomes the ceaseless propulsion of time and the melodies and sentiments clinging onto it just the delicate, transient humanity that found its way here. Deep yeah, but perfect for hairdressing salons.